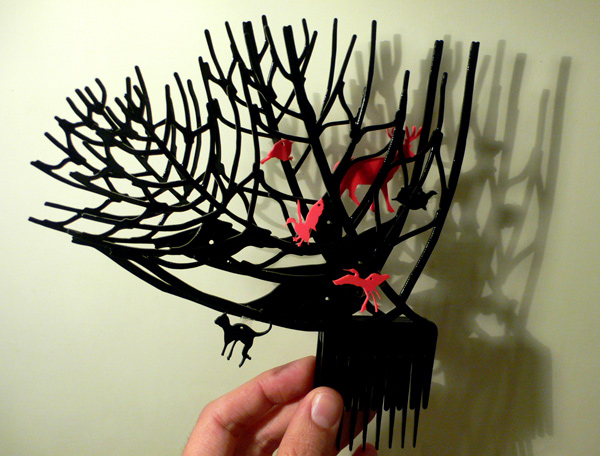 P0013 - environmental consciousness - 150€ - 2/5
This series of "peinetas" commemorate the beginning of my environmental consciousness that I acquired in opposition of the hunting activities of my surroundings. This piece is composed of two different "tree" layers overlapped leaving 8mm between them, with hanging animals.
Hand made peineta, cut with handsaw in acetate with different colours.
Design by piss2mil.
This collection of "peinetas", evolving from the pieces used in Spanish religious iconography, is part of a project called "BIOGRAFISMOS", that can be translated as bio-graphic, in which I describe the crucial people and events of my life. This is a working in process project, that grows constantly. The next series include Among others Summer, Winter, Autumn and Spring in London.....
There will be only 5 pieces of each design, except for the P008,P009,P010,P011 which there will be 20 pieces. One piece of every design has been sold out in an auction/exhibition done in Madrid.
piss2mil makes it to order specially for you ( I can also hand-engrave the name of the future owner if you wish to).
Drop us a line if you need to contact us: